Editor's Note: This article originally appeared in our affiliate publication The Current Report January 13th, 2021.
Last week, the nation watched in disbelief as cracks and weaknesses in our national political infrastructure in Washington DC became glaringly evident.
Thousands of protesters surrounded the Capitol as a pod of sanctioned militants calling themselves "patriots" stormed the building with metal pipes, pepper spray and other weapons. The rioters pushed past the anemic police line, taking over the House and Senate chambers. Rioters ransacked offices, smashed windows, some of whom were waving Trump, American and Confederate flags as lawmakers were voting on President-elect Joe Biden's affirmation as President of the United States.
The rampage, deemed a terroist attack by the FBI, shocked the world and left the country on edge.
SILENCE CAN BE DEADLY
Meanwhile, back at the ranch, Angelenos were dumbstruck by the events taking place in the nation's Capital waiting patiently for SOMETHING – ANYTHING – from county leaders to guide us through the gut-wrenching feeling of impending doom.
And we kept waiting…. and waiting…
The same, consistently mouthy, county "leaders", a.k.a. the all-woman Board of Supervisors, who use any occasion known to (wo)man to get on their soapbox and pontificate about their own agendas, somehow couldn't find the words to comfort their constituents during complete chaos.
Not even a tweet.
For that matter, not even a chirp!
Mind you, these are the same officials who thought it was absolutely imperative to divert CARES ACT funding – to the tune of $2 million dollars + – for their own PR needs (even though they have an in-house staff). The County "Queens of Over Communication" then took it a step further, renewed the contracts with the PR firms owned by their friends/campaign donors, using more COVID relief funds, leaving their constituents out in the cold.
IT'S A LITTLE TOO QUIET IN COMPTON
As the sh*t hit the fan nationally, some leaders in local law enforcement issued statements to ensure the public they were ready to handle potential violence (should it occur) as a result of the events in Washington… but not all law enforcement leaders were on the same page.
Unfortunately, L.A. County Sheriff Alex Villanueva was conspicuously absent from this group – even as riots were beginning to take shape in Downtown Los Angeles causing fears of yet another massive civil uprising similar to what transpired as a result of the death of George Floyd.
When all you get is silence from the leader of the LARGEST Sheriff's department in the country, during a viable threat to public safety, in the midst of a global pandemic – topped with a highly volatile political atmosphere, you gotta admit… it's a little disturbing.
It also kind of makes you wonder…
Is everything O.K.?
Can someone take that man's temperature please?
Who's running the show over there?
I know there was a coup at the Capitol – but was there one at LASD HQ too?
Even the little guys over in Ventura County, more than 30 miles away from the protests downtown, had the cojones to stick their neck out and say something.
So, when every single news channel is focused on the mayhem in the nation's Capital, which could potentially spark violence around the country, is it too much to ask the Sheriff of L.A. County, the guy in charge of calling in the National Guard, the guy with FIVE stars, to speak up during a national crisis? Perhaps release a statement that could potentially deflect a repeat of last year's civil uprising?
Did LASD not learn anything from 2020?
I mean, I know the recent riots downtown were LAPD's handle, but when they're taking place pretty much a stone's throw from the Hall of Justice – can the Sheriff take a few minutes to tweet "WE GOT THIS"?
Quite frankly, all of this silence comes as a surprise to me, especially since Sheriff V might be the most educated (PHD in Public Administration) and most eloquent Sheriff the deoartment has ever had.
Public speaking is his forte and he's actually quite brilliant at it. Sooooo … why the silent treatment?
Is it a simple case of Sheriff V's "communications-department-slash-advisors" sleeping on the job?
Not enough action for them?
Too many chiefs, not enough Indians?
Too many cooks in the kitchen?
Help me out here. I really want to understand the logic behind this because IF Sheriff V's got another run in him for 2022 Sheriff's election, it's time for him to take vigorous control of HIS narrative – NOW.
Kind of like this guy, Sheriff Bianco, a real cowboy from our neighboring county, who made national headlines standing up against the "powers that be" (Sheriff V should remember that line from his inauguration December 3rd, 2018).

Sheriff Bianco's communication style may not be for everyone, but he absolutely knows how to take control of his narrative. His staff is on point executing professional and personable messaging like a top notch New York Public Relations firm – and these boys are in cowboy country!
Hopefully Sheriff V will be inspired – and soon – to step up and do a swift, clean sweep at LASD – like lickety split.
Suggestion? Get the strong stuff out. Start with Brillo pads and lots of elbow grease – especially if he expects to shine in next year's primaries.
Dirt is cumulative and can have a pretty profound effect on an election and we all know four years is not nearly enough time to properly clean up decades of; corruption, cover-ups, wrongful deaths, police infighting, power grabs, intimidation, harassment etc… and that's a thick layer of dirt that needs to GO.
BTW I'm pretty proficient in how exposing dirt during campaign season can impact an election. In 2018, my publication exposed the two-year law enforcement cover-up in the Malibu Creek State Park Shootings just four months before the November Sheriff's election.
The story went global after exposing negligence and abuse of power at LASD that lead to the death of Tristan Beaudette who was murdered while he lay sleeping in his tent next to his two young daughters.
Four months of consistent reporting on the failures by the department and their leaders hammered the final nail in former Sheriff Jim McDonnell's coffin after a succession of very bad decisions. It also led to another shining moment in department history. Sheriff V became the first ever candidate to beat the incumbent.So, if anyone knows how to pull off a miracle at the polls, its him.
Where to start the clean-up?
At the top (HQ) – and let a stream of hot soapy water trickle down (throughout the troops) … until water runs clear.
A BREAK IN THE SILENCE
Just when you thought your Christmas miracles were left in 2020, a post-holiday gift arrived today the form of a notification as I was standing in line at the grocery store.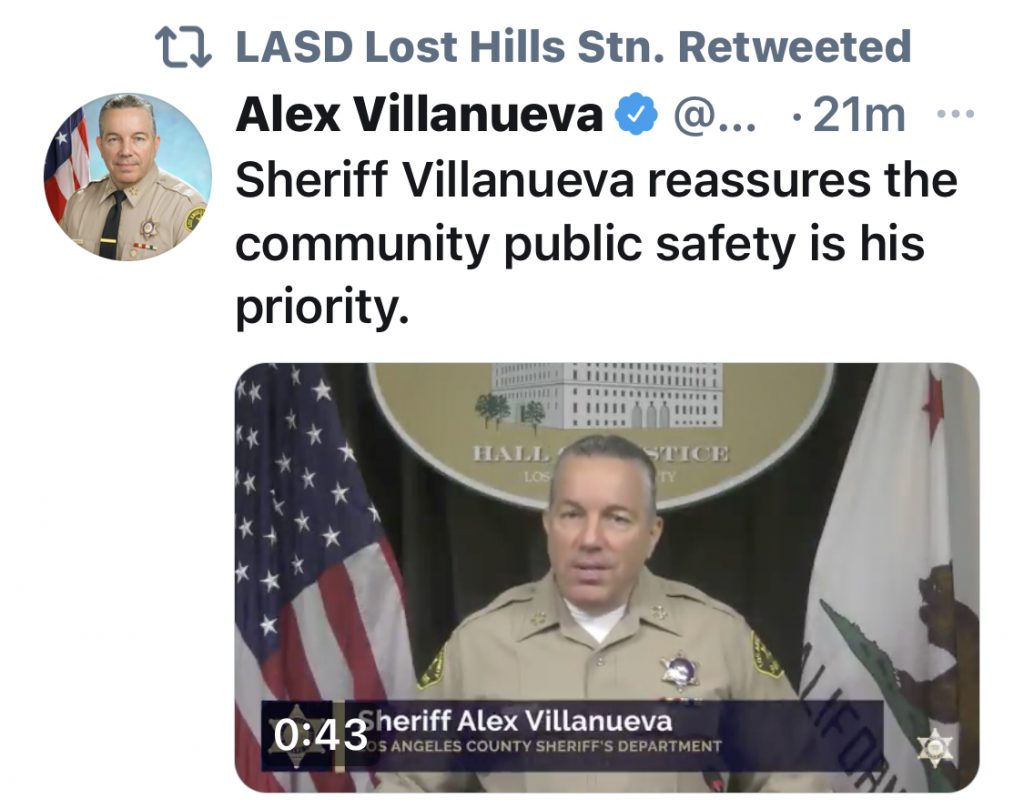 What was disguised as a present, was really just a bag of coal.
On January 6th, unexpected maelstrom occurred in our nation's Capital killing 5 people. That day, violence related to the events in Washington DC erupted in downtown L.A.
Fast forward to January 13th, seven days after the historical event, the Sheriff of L.A. County finally released a statement saying our "public safety is a priority" and he "unequivocally condemns the violence in DC". Thanks for the heads up… A WEEK LATER.
Profoundly disappointing Sheriff. Like remembering to close the barn door after the horses have escaped.