By Tammy Arlidge
Originally published in Malibu 90265 Magazine on March 9th, 2020
Tears. Shock. Disbelief.
These three words have forever marked January 26, 2020, the day Kobe Bryant, his daughter Gianna, and seven others perished in a helicopter crash only miles from Malibu. They were headed to Bryant's Mamba Sports Academy in Thousand Oaks where the girls basketball team would be playing and where he coaches.
Among those killed in the crash are Christina Mauser, 38, one of Bryant's assistant coaches for the Mambas; John Altobelli, 56, an accomplished baseball coach at Orange Coast College and was on the flight with his wife, Keri Altobelli, and 13-year-old daughter, Alyssa, a teammate of Gianna; Payton Chester, a 13-year-old from San Juan Capistrano, Calif., who was also a basketball player. She was on the flight with her mother, Sarah Chester.

The original alert of the helicopter crash retweeted by our affiliate publication, The Local Malibu.
UNANSWERED QUESTIONS
Why was the helicopter flying in foggy conditions? Why did the pilot turn left into the mountain in Calabasas? Did the pilot feel pressure to get his client to his destination? Were there mechanical problems? Was there a medical emergency? Was the weather the cause?
An aviation advisory had warned pilots Sunday morning that they would need to navigate by IFR, instrument flight rules instead of VFR, visual flight rules, due to poor visibility (referred to as IMC, instrument meteorological conditions). This requires pilots to use their cockpit instruments to get them through clouds or other conditions with zero visibility instead of visual reference.
The manufacturer of the helicopter, Sikorsky S-76B, owned by Lockheed Martin, is considered a 'work horse' as it's used as an air ambulance as well as preferred V.I.P. transportation. It operates in ten countries and known to have a good safety record. According to Federal aviation accident records, there have been eight accidents involving S-76Bs over 26 years and only two of those have involved deaths or serious injuries to people on board. The company that operated the flight is Island Express Holding Corp out of Van Nuys. Bryant had flown many times in this particular helicopter to travel from his home to games at Staples Center. He called it his "Mamba Chopper".
The pilot, Ara Zopayan, had flown Bryant dozens of times. He was an experienced instrument-rated pilot, having over 8,200 hours (as of June 2019) flying time as well as having his commercial license since 2007. He was qualified to fly in bad weather and was a flight instructor.
THE FLIGHT
9:06 The Sikorsky S-76B helicopter, carrying Kobe Bryant and eight others including his daughter, leaves John Wayne Airport in Orange County headed north towards Van Nuys. Skies are clear with four miles visibility.
9:21 Helicopter begins circling over Glendale, near Burbank. The pilot requests special VFR, special visual flight reference, clearance, from the tower, which allows the pilot to fly in conditions worse than usual. LAPD and sheriff's departments ground all of their helicopters due to poor visibility.
"Helicopter 2EX, hold outside Burbank Class C airspace. I have an aircraft going around," an air traffic controller says.
"2EX, holding," the pilot replies.
9:24 An air traffic controller says, "it's gonna be a little bit" before the pilot can continue.
"OK, we'll continue holding," pilot replies.
It appears the visibility is getting worse, and the pilot is being asked to remain circling as another aircraft is in the vicinity. He remains in a holding pattern for twelve minutes.
9:33 Air traffic control asks pilot to 'maintain special VFR at or below 2500, I-5 northbound.' The helicopter heads north. The pilot confirms he heard the instructions. Later, the Burbank air traffic controller tells the pilot to switch to Van Nuys air traffic control.
9:36 Pilot switches to Van Nuys Helicopters' frequency.
9:37 Pilot informs Van Nuys tower that they are at 1400'. Tower says that winds are calm and visibility is at 2 ½ miles and fog ceiling is at 1100'. Tower asks pilot to respond when he is in VFR conditions. There is no noticeable stress in the pilot's voice.
9:39 Pilot responds they are transitioning to VFR at 1500'.
9:42 Tower asks pilot if he's requesting 'flight following' (additional assistance requested from air traffic control) to avoid air traffic. No response from the pilot.
9:44 The tower tells pilot the helicopter is too low to get assistance from the tower. There is still no response from the pilot.
9:45 Helicopter falls off of radar.
Radar tracking data indicated that the helicopter reached a height of 2,300 feet then rapidly began a left descending turn and increased his speed, possibly to avoid the terrain, hitting the hillside at 1085'. Due to the debris field of nearly 500 feet, this suggests that the helicopter hit the ground at a high speed roughly 140-160 knots (165-185 mph).
Did the pilot divert briefly off the 101 freeway to circle back and encountered the hillside with no time to correct? Was his intention to fly away from the bad weather and head to Camarillo via the coast? Did he become spatially disoriented in the fog, not discerning his position or location in reference to the terrain?
ABOVE: Nest Camera video from resident Stephanie Prevo includes audio of the helicopter just before the crash and as it comes to an abrupt stop indicating the crash.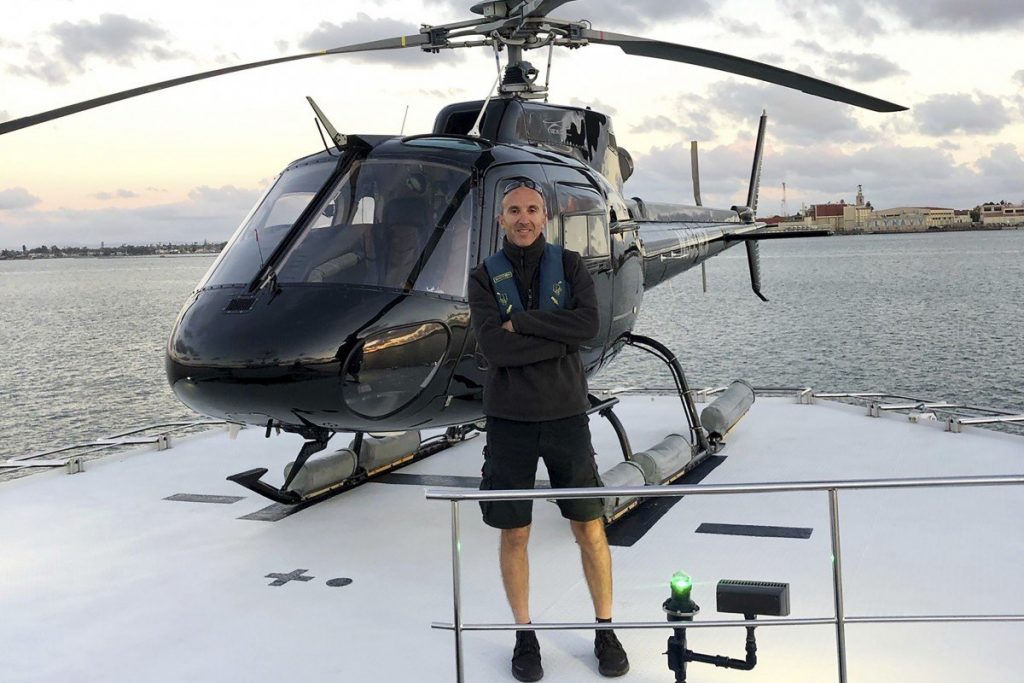 Flying with VFR in an area known for abruptly changing weather conditions can be like walking a tightrope. A pilot's responsibility levels are increased, and the stress is elevated, especially in a mountainous terrain, and when flying passengers. According to IFR trained pilots, it is crucial to have enough 'real-world' experience and confidence to safely attack the challenges of operating a helicopter in reduced visibility.
As the news quickly broke that Kobe Bryant was on board and there were nine victims total, "We knew this would not be a normal recovery," said David Katz of Malibu Search and Rescue (SAR) Team.
Hazmat teams, deputies, coroners, NTSB, FAA, homicide detectives, fire departments, and investigators, were among those involved in the arduous task of documenting and securing the scene, searching for evidence, and the removal of crash debris and victims. The steep hillside and narrow trails made accessing the site difficult and dangerous.
"After assessing our needs on Sunday night, we knew the terrain lacked adequate rope system anchors; there was a large debris field, multiple fatalities in various locations and the presence of hazardous materials and sharp objects everywhere," Katz continued. In total, thirty-four SAR personnel were deployed.
Jennifer Homendy, a member of the National Safety and Transportation Board, said that this helicopter was not equipped with a TAWS, a Terrain Awareness Warning System, that can help pilots to avoid crashes by warning a pilot when an aircraft gets too close to the ground. It provides detailed imaging and visual and auditory warnings of surrounding terrain. This device is required in fixed-wing aircraft and helicopters used as air ambulances, but is optional for commercial use. Investigators said that the helicopter missed clearing the hill by 20 to 30 feet, though having a TAWS on board may or may not have prevented the outcome. Also, there was no pilot voice recorder, nor a black box, which records the flight data such as altitude, speed and pilot conversations. The NTSB has been urging federal regulators to require these in helicopters for more than a decade. The arguments against these have been based on economics; the cost is estimated at $20,000 to $40,000 per helicopter. According to Jennifer Homendy, "these would have helped us significantly in this investigation."
On January 30, Rep. Brad Sherman (D-Sherman Oaks) announced that he will introduce the Kobe Bryant and the Gianna Bryant Helicopter Safety Act, which would require the NTSB and the FAA to place a TAWS in all helicopters.
The search for answers is just beginning. A preliminary 11-page report on February 8 from the NTSB has not given additional information as to the cause of the crash, but did confirm that the engine did not appear to have failed. The final report could take up to eighteen months.
UPDATE
A 72-page complaint was filed by Kobe's wife, Vanessa Bryant, alleging that the helicopter crash which left her husband, daughter and seven others dead "could have been avoided" and that the deceased "were killed as a direct result of negligent conduct of (Ara) Zobayan." It also stated that Island Express, should be held responsible for the tragic outcome.
The NTSB has already released over "1800 pages of of documents" related to the probable cause of the crash, even thought the facts have shown that fog and pilot error were to blame and that engine failure was not a factor.
Numerous wrongful death lawsuits have been filed by the families of the victims, and are still unresolved, as well as a "cross-complaint" from Island Express saying that "the federal air traffic controllers on duty that day" should share the blame.
On February 9, 2021 the NTSB is expected to publicly rule its findings and the probable cause of the crash.
Originally published at https://malibu90265magazine.com on March 9, 2020.