For over two decades, the family of Gladys Arellano hoped for justice in the 17 year-old's murder which took place on Super Bowl Sunday in 1996. Arellano's body was found two days later in Topanga Canyon, 30 feet off a main road in a ravine. Authorities said she was partially clothed and appeared to be beaten and strangled.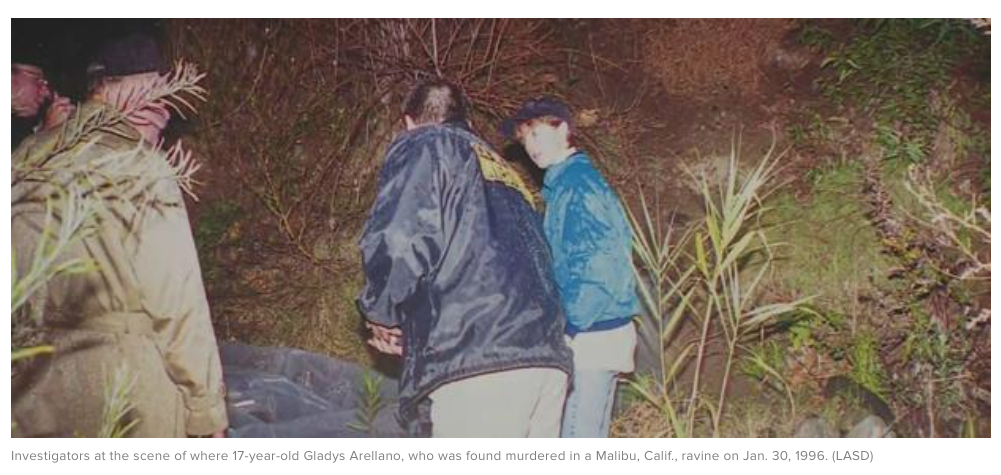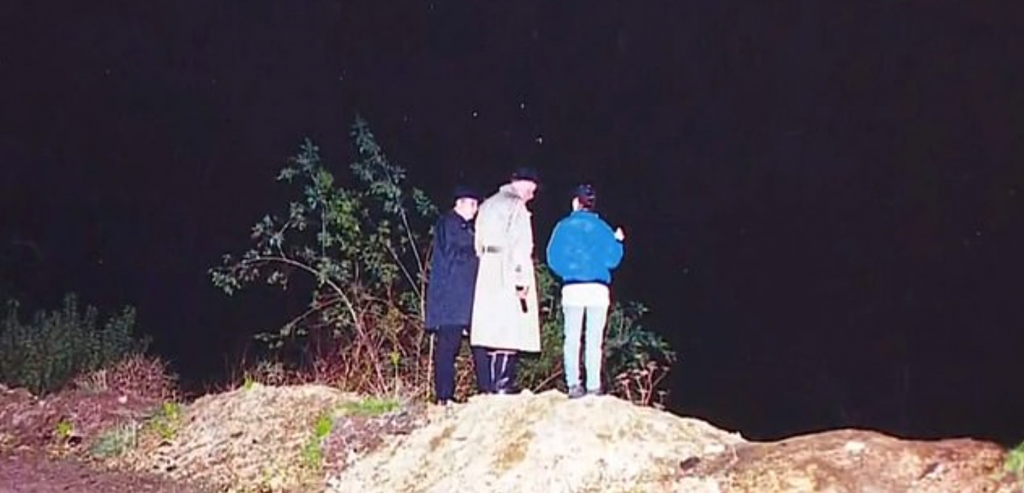 In 2019, twenty-three years after Arellano's murder, investigators finally got a break in the case. Jose Luis Garcia was arrested by LAPD on November 10th, 2019, on a domestic assault charge. During the booking process, a DNA swab was taken from Garcia and processed, then uploaded into the California DNA database. A month later, LASD Cold Case investigators got a hit.
"Serology evidence was collected from Gladys' body and subsequently a DNA profile was uploaded to the state and federal DNA databases as (that of) an unknown offender," Detective Lt. Hugo Reynaga said. "Although an extensive investigation was completed by homicide investigators at the time, no match was identified through the DNA databases, and the case remained unsolved."
On Tuesday, the Arellano family was able to see her suspected killer in court as he pled guilty to kidnapping and voluntary manslaughter. Garcia faces 19 years in prison for Gladys Arellano's death.
MALIBU'S UNSOLVED MURDERED AND MISSING
While the Arellano case has seen a successful outcome with the assistance of LASD Cold Case investigators and updated DNA technology, there are at least three cases in Malibu that have not seen justice due to LASD personnel's failure to follow department procedure and protocols, intentional cover-ups and misleading the public and the media regarding the cases of Mitrice Richardson, Elaine Park, Matthew Weaver.
Additionally, in spite of Anthony Rauda's recent second-degree murder conviction in the Tristan Beaudette case, the officers that were disciplined for mishandling the case and who have critical information that could have led to an acquittal or mistrial, were not called to the stand by his defense attorney.
Why?
MITRICE RICHARDSON
It has been almost fourteen years since Mitrice Richardson disappeared after being released shortly after midnight from the Lost Hills Station on September 17th, 2009.
Richardson had no cellphone, money, or transportation. Her partially mummified remains were found 10 months later, on August 10th, 2010, six miles from the station and 1.5 miles from where she was last seen.
During that time, absolutely no progress has been made by the Los Angeles County Sheriff's Department in this case despite many promises made by former top cops, 30th Sheriff Lee Baca and 33rd Sheriff Alex Villanueva.
Within days of Richardson's disappearance, Dr. Ronda Hampton, a clinical psychologist from Diamond Bar who was Richardson's mentor, initiated contact with Sheriff Lee Baca in an effort to seek accountability for those involved with her arrest and release.
Hampton openly discussed corruption within in the department in those early meetings with Baca and from the beginning, the former Sheriff was not only was receptive to Hampton's concerns regarding the department's responsibility in Richardson's disappearance, he was forthcoming to Hampton with his belief the case was mishandled by his officers and that Richardson was possibly murdered.
At the time, Sgt. Tui Wright was the head of Malibu Search and Rescue (and in charge of all the searches in the area). According to Dr. Hampton, Wright's behavior and actions were extremely troubling and suspicious right from the start. Multiple sources revealed Wright continuously failed to follow department procedure and protocol, specifically involving the searches for Richardson.
During one of the initial searches, Wright purposely stopped the K9 from continuing to search after they picked up Richardson's scent. On another search in 2010, Wright re-directed a drone away from the direction where Richardson's remains were ultimately found. Dr. Hampton repeatedly asked Sgt. Wright why he was not directing the drone towards the area (where the remains were eventually recovered), his excuse was "We'll get to it eventually".
Another troubling claim Wright made was that he was the one who found Richardson's remains, especially when he made multiple attempts to deter search teams from finding Richardson and when official reports state personnel from the Lost Hills Station were not present when Rangers inspecting the area for marijuana grows.

Wright's interaction with Dr. Hampton after the remains were found were also suspect as he refused to give Dr. Hampton the details of location where Richardson's remains found. Ultimately, Wright was ordered by Sheriff Baca to share the details with Dr. Hampton.
Dr. Hampton also found discrepancies in Wright's description of how and where he found Richardson's remains.
It is still unclear why originally LASD hid the location (purposely) from the family when the remains were found and why LASD delayed contacting the coroner for two hours knowing they were rapidly losing daylight in a very treacherous area to collect the remains.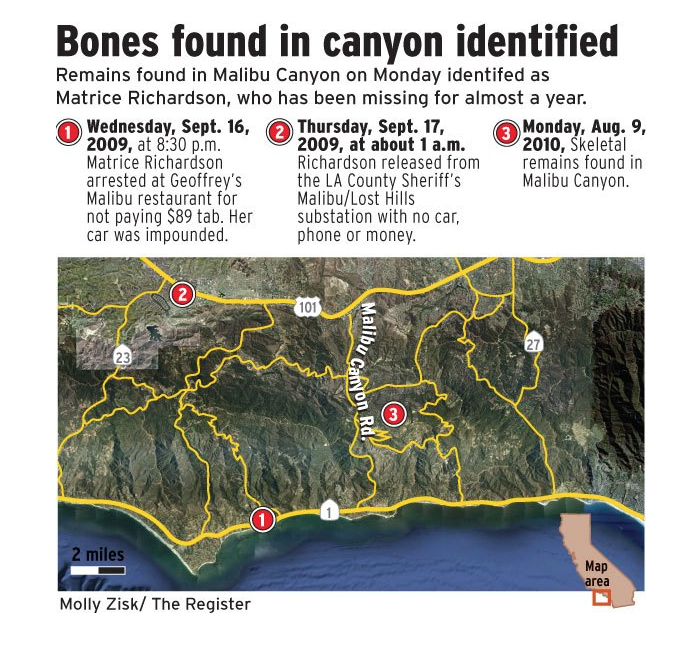 ELAINE PARK
Elaine Park was last seen leaving the home of her boyfriend at approximately 6 a.m. in the Dark Canyon area of Malibu Canyon on January 28th, 2017.
Five days later on February 2, her 2015 Honda Civic was found on the 26000 block of Pacific Coast Highway, just south of Corral Canyon Road in Malibu. The doors to her car were unlocked, the keys were in the ignition in the "ON" position and the battery was dead. All of  Elaine's belongings were in the car including cash, her ID and laptop and was immediately released to the family without law enforcement processing the contents at the crime lab.
Sgt. Tui Wright, head of Malibu Search and Rescue was in charge of all the searches, which at his direction, concentrated only on the ocean side of PCH where her vehicle was found, rather than the location where she was last seen, ignoring the 1.5 mile area LASD search protocol used by Malibu Search and Rescue. It was only under public pressure did the search make it to the area around the residence months later after critical evidence was potentially destroyed.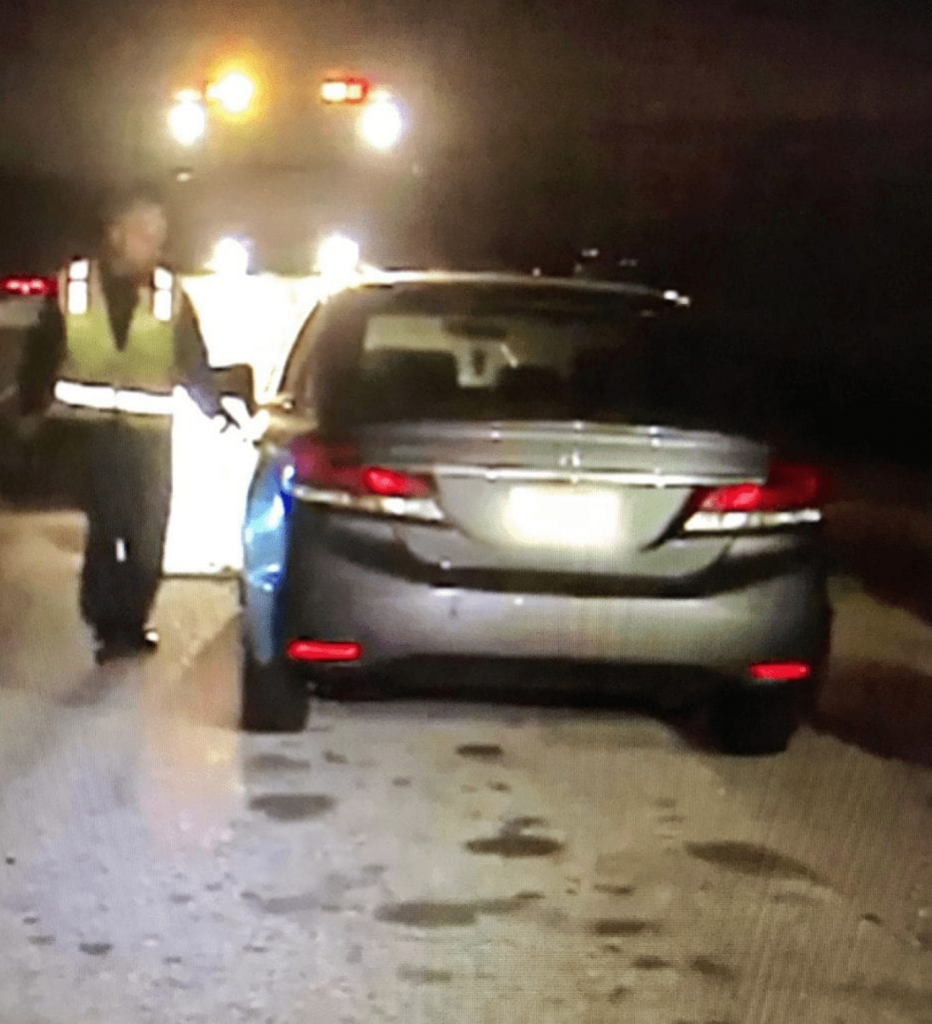 MATTHEW WEAVER
The day of Matthew Weaver Jr.'s disappearance on August 10th, 2018, I interviewed Lost Hills Station Lieutenant Jim Royal. He was adamant Weaver committed suicide stating the information came directly from the family. I contacted members of Weaver's family, including his father, all of whom denied there was any indication Matthew was depressed.
The night before, a 911 call made by witnesses at the location described screams for help and a gun.
"He's got a gun! He's going to kill me." the witness said.
Sgt. Wright told the Weaver family he investigated the screams and came to the conclusion it was a domestic dispute.
The Weaver family contacted multiple agencies and there was no record of a domestic violence incident that night prompting the family to be very confused – and suspicious – of Sgt. Wright's behavior.
Additionally, Wright said to the Weaver family early on, "Sometimes people just want to go away and not be found."
That exact statement was also made to family members of Mitrice Richardson by the Sgt. Wright early on in the search phase.
When law enforcement makes a definitive statement to a family member, suggesting their loved one who went missing in a mountainous region doesn't want to be found, it takes on a completely different tone than when someone who goes missing in a suburban area.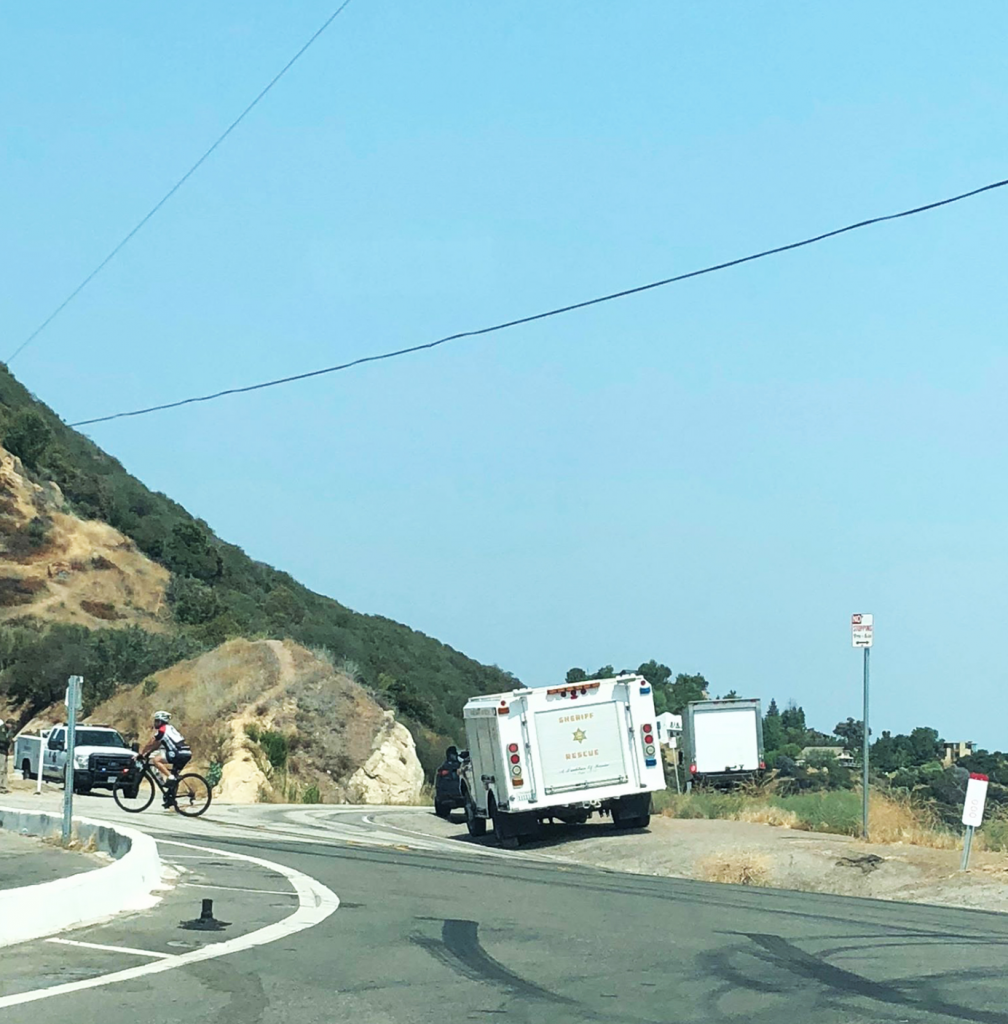 The Weaver search, according  Sgt. Wright, who communicated with the family, supposedly included door knocks, gathering and reviewing security camera footage. However, the lead detective on the case at LAPD confirmed that no video was ever reviewed or entered into evidence. Weaver's vehicle, despite the disturbing 911 call made by witnesses the night he disappeared and the nefarious activity in the area, went untouched (and could have been be easily compromised) in the tow yard and was not officially searched until a month later.
New information from our law enforcement sources also suggests female belongings were in his car however, the reports do not reflect this potentially critical information.
Sgt. Wright also attempted to deter the family from going up to the area where Matthew Weaver went missing stating the "owners of the property have hired security armed "with a shotgun". An astute observation from Sgt. Wright, a former Narcotics detective having knowledge of the gang and drug activity in that specific location, not to mention the geography as he grew up in Topanga and has history of shooting rifles at hikers in State Parks as a teen.
In January of 2019, the Weaver family coordinated a search in an area that, according to Sgt. Wright, was previously searched. The family found a torn t-shirt and hat belonging to Weaver. The evidence was turned over to Lost Hills Station and was kept in their custody for over a month.
Despite repeated calls to LAPD by the family to pick up the evidence and test for DNA, the evidence was never transferred to LAPD until the family contacted our publication and Dr. Ronda Hampton reached out directly to Sheriff Villanueva to facilitate the evidence being transferred to the lead agency for processing.
CASE CLOSED?
It should be noted that the two officers mentioned in this article, Sgt. Wright, who retired under intense scrutiny and Lt. Jim Royal, were disciplined for their actions investigating the Malibu Creek State Park Shootings and the murder of Tristan Beaudette. Despite their actions and interference with the investigation, not to mention the possibility the information they possess could have led to an acquittal or mistrial, Anthony Rauda's defense attorney did not call them to the stand.


***While the valued efforts taken by those who risk their safety to search for the missing and investigate the murders should never be undervalued or underestimated, clearly there are still dark forces that persist in our region preventing closure for the families and justice from prevailing in these high-profile cases.