On Monday July 10th, Malibu City Council is set to review two important items that needs the community's attention and participation.
Poison Free Malibu, who has championed the fight to ban pesticides in Malibu since 2012, are appealing to residents to pressure council to push through policy to ban harmful pesticides in Malibu, which has had a serious impact on environmentally sensitive habitat, wildlife and ocean quality. This issue goes to a vote before Malibu City Council on July 10th.
Residents are urged to send in their letters to City Council no later than 12 P.M. July 10th. Click here to copy the form letter.
Another issue of great importance is City Manager Steve McClary's salary which is scheduled for a cost of living increase.
While the foundation of the argument to increase McClary's salary is understandable (McClary's base salary from $235,000 to $260,000, and his monthly car allowance from $400 to $650), what is not, is the same argument Council is using to raise McClary's pay, is the mirroring Commissioner Kraig Hill's proposal to implement a stipend for Planning Commissioners first presented to Council in 2019.
Hill formally appealed to Council to implement Malibu Municipal Code §2.36.110, which provides for a stipend to planning commissioners. The provision is standard for General Law cities in California and most cities do provide the statutory stipend for planning commissioners – including all other cities of the COG.
Council's excuse to Hill in 2019 was that it would be worth considering at a time when the City budget was "not so stressed" – the result of a grossly overstaffed City Hall and waste and abuse by former City Manager Reva Feldman whose complete and total incompetence impacted the City financially (and otherwise) during her five-year reign.
Malibu began to recover after Feldman's departure in 2020, as did the City's financial outlook.
Unfortunately, Council appears to be purposely overlooking the dedicated work of commissioners such as John Mazza and Hill, who have not only donated thousands of hours over the years serving the community, are using their own money to do so while the City of Malibu continues to operate with a budget surplus reportedly hovering around $30,000,000 with City Council member and banker Doug Stewart publicly stating his financial consulting is helping the City's investments "perform better".
Commissioner Hill appealed to Council again in a letter dated May 22nd, 2022, asking for the stipend to be approved. It was again ignored despite the city operating with a surplus.
Hill's proposal is less than the average paid in comparable cities and the total of $15,000 annually suggested for all five commissioners is below the threshold at which the city budget or work plan would have to be formally amended. Virtually no staff time would be required.
In layman's terms, there is no fiscal or administrative reason for council not to approve the stipend. Council merely has to settle on the dollar amount and vote to implement it. 
So, the time reconsider the Commissioners stipend is now.
Planning commissioners Peak, Smith and Jennings have been mum on the issue of the stipend – and given their ability to potentially profit quite handsomely from the projects they vote on (more on that in future articles), it is abundantly clear why they appear not be in support of pushing the issue with Council
Peak, Smith and Jennings in-your-face agendas are on display twice monthly – with the most egregious of acts occurring when Peak, Smith and Jennings purposely passed over Vice Chair John Mazza – who has been on the commission since the early 2000s donating decades of his time and money to preserving Malibu – only to appoint Peak as chair – which is problematic at best for multiple, well-documented reasons.
Peak's history of mental health issues are disturbing and landed him in trouble multiple times with law enforcement. The mental health issues have been widely reported on by multiple local and national publications including the LA Times and Huffington Post casting an embarrassing light on the City nationally and globally.
Meanwhile, despite the negative publicity, numerous displays of questionable ethics, behavior and actions, he continues to be put in positions of power. Council member Maryann Riggans is responsible for Peak's recent appointment to the Planning Commission.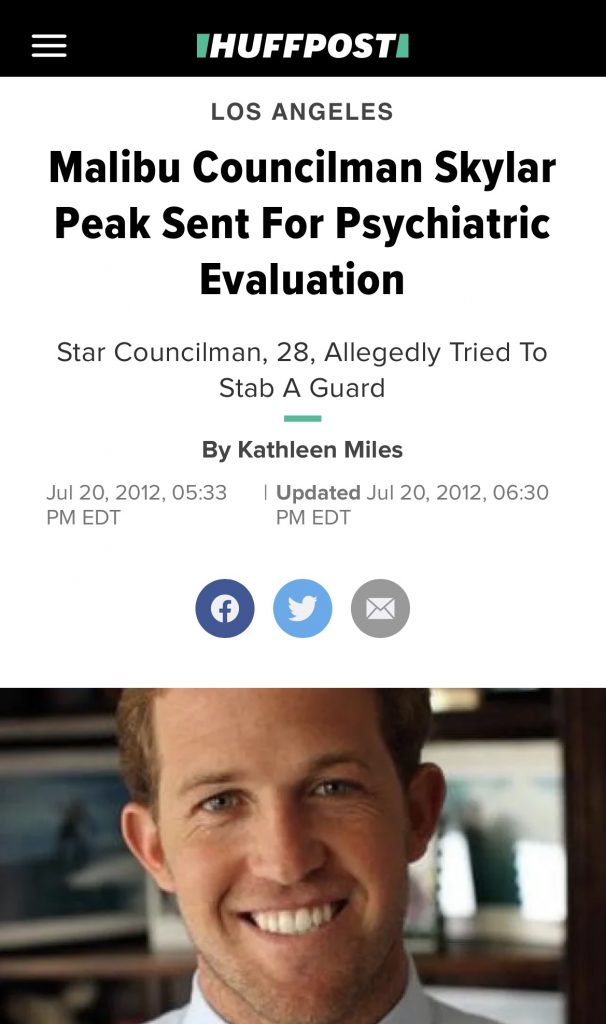 Council is expected to pass City Manager McClary's raise without opposition, however, the community must rally to take care of our own and stand behind Planning Commissioners Hill and Mazza who have selflessly served the citizens of Malibu for decades (combined) and absolutely should not be expected to *pay* for the privilege. 
You can email your letters of support for the stipend to Council memeber no later than 12 P.M. on July 10th, 2023.
SUhring@malibucity.org, BSilverstein@malibucity.org, PGrisanti@malibucity.org, MRiggins@malibucity.org, dstewart@malibucity.org, kpettijohn@malibucity.org