In a world where technology has taken over, it is nice to know the intrusion may actually be beneficial – and in some cases on a critical, lifesaving level.
Recently, the internet was a buzz when multiple rescues were swiftly and successfully completed with the help of the Iphone 14 SOS feature which connects via satellite to the nearest 911 provider when you are in a remote area with no cell phone or wi-fi coverage.
On June 24th, a woman suffered a broken ankle while hiking in Tujunga and was able to call 911 emergency services using the new feature on her Iphone 14 when she was out of cell and Wi-Fi coverage.
Malibu Daily News via Newsbeat LA interviewed Mike Leum, Group Leader and thirty-year member of the L.A. County Sheriff's Department Search and Rescue team. Leum oversees 8 teams (including Malibu) with over 200 members and has been involved in over 110o missions. He explained the circumstances around the recent rescues using the IPhone 14's new technology and important aspects of the SOS satellite feature.
Ankle injury hoisted by @LACoFireAirOps after we were notified via iPhone 14 911 sos satellite feature. pic.twitter.com/Z7e18VLgQs

— Mike Leum (@Resqman) June 24, 2023
Leum described a situation a few months ago with a young male and female in their twenties whose car veered off a cliff falling 300 ft. landing at the bottom of a gorge. Their IPhone 14 detected the fall and initiated the call to first responders in the area. The victims were able to communicate with 911 dispatchers and LASD Search & Rescue, including Leum, responded to the scene. They were successfully rescued. However, had they not had the IPhone 14 SOS feature and were unable to receive help, Leum says their chances were slim surviving the frigid temperatures in the area overnight.
LASD Search & Rescue is also receiving emergency messages from multiple different satellite services along the Pacific Crest Trail (the trail spans the entire west coast of the United States from Mexico to Canada) and according to Leum, the satellite feature is most certainly making response times a lot quicker – which amounts to saving more lives.
"It's pretty amazing…Technology is definitely saving some lives lately"said Leum who then offered his predictions, the Rock Pools and Escondido Falls, for locations around Malibu where most likely this new technology could potentially be used by lost or injured hikers.
Of course an interview with the Group Leader of LASD Search & Rescue with thousands of rescues under his belt and over three decades of service, would not be complete if it didn't include summer safety tips – especially in complex rural geography like Malibu and the surrounding Santa Monica Mountains frequented by hundreds of thousands of visitors every year.
Water & light. These are the two most important elements to a successful hike.
Hat – especially when heat is a factor. Leum mentioned multiple incidents in Malibu where hikers died due to excessive heat.
Don't go hiking by yourself. Leum cautions going on a hike on a first date – especially when you don't know the physical capabilities of your date. Instead, join a hiking group with experienced members who know how to navigate potential treacherous areas and potential emergencies in nature.
Make sure someone knows your plan. Share your location with family members or trusted friends. Fill out the Los Angeles County Sheriff's Department Hiking Plan with the most important information and leave it in your dashboard in case first responders need pertinent information to help locate or potentially rescue you in an emergency situation.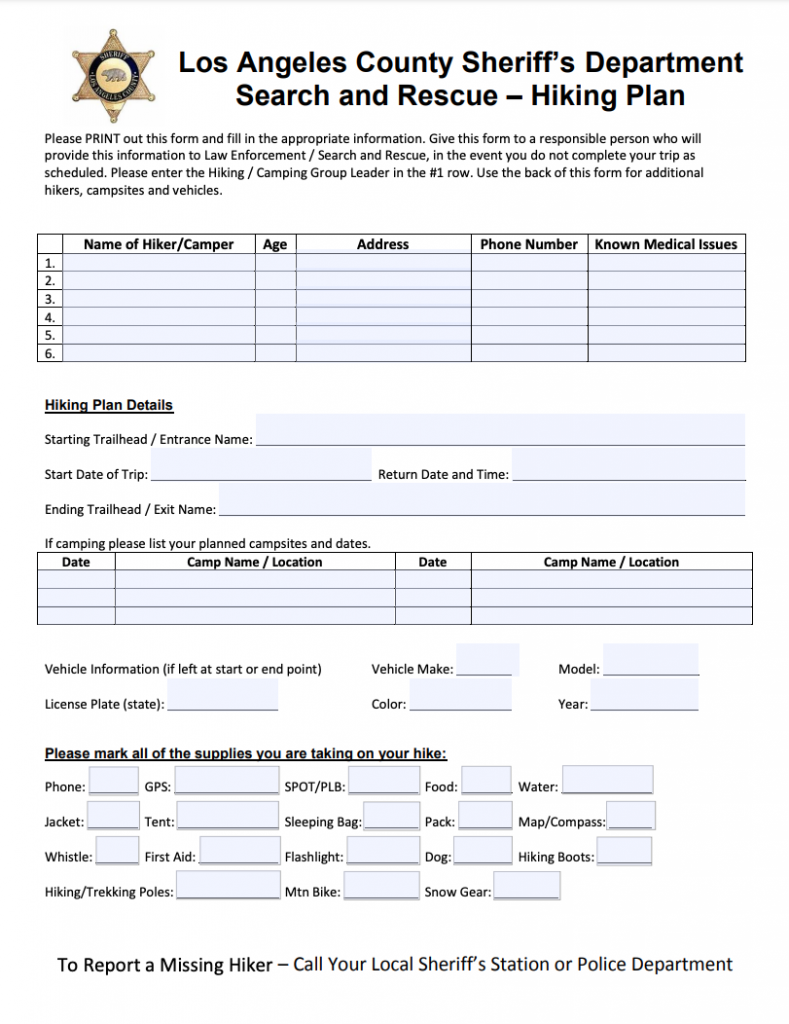 Most importantly Leum stresses the importance of understanding your physical capabilities "In the words of Clint Eastwood, 'Know your limitations'."
Sage advice from veteran first responder and could be the key to a nature lovers survival this summer.
Audio version of the interview releases tomorrow on @newsbeatla
Twitter
and
Instagram
. This article will be updated with a live link and will be available on Apple Podcasts, Spotify and your favorite podcast platform.