In 2018, during my investigation into the
Malibu Creek State Park Shootings
, I met Dr. Ronda Hampton, who I have since continued to work with on multiple missing persons cases.
In September 2019, in collaboration with Dr. Hampton and as a result of my reporting on the shootings, a new tip came in in the
Mitrice Richardson
case revealing important information that led to further investigation in her death.
Additionally, in the case of
Matthew Weaver Jr.
, a 21 year old Simi Valley man that went missing during the shootings in August 2018, Dr. Hampton and I have been working consistently with the Weaver family since breaking the national story – also a result of our reporting on the shootings which went global due to our exposing the law enforcement cover-up and bringing increased awareness to our community and these cases.
The case of Elaine Park, a beautiful young woman who went missing in 2017 – also in the same remote area and Richardson and Weaver connected these cases and locations in my reporting, has been stagnant for some time leading to an organized effort by Dr. Hampton and the families to stage an event on October 26th, 2019 to gather additional information to solve these cases and bring the person or persons responsible to justice.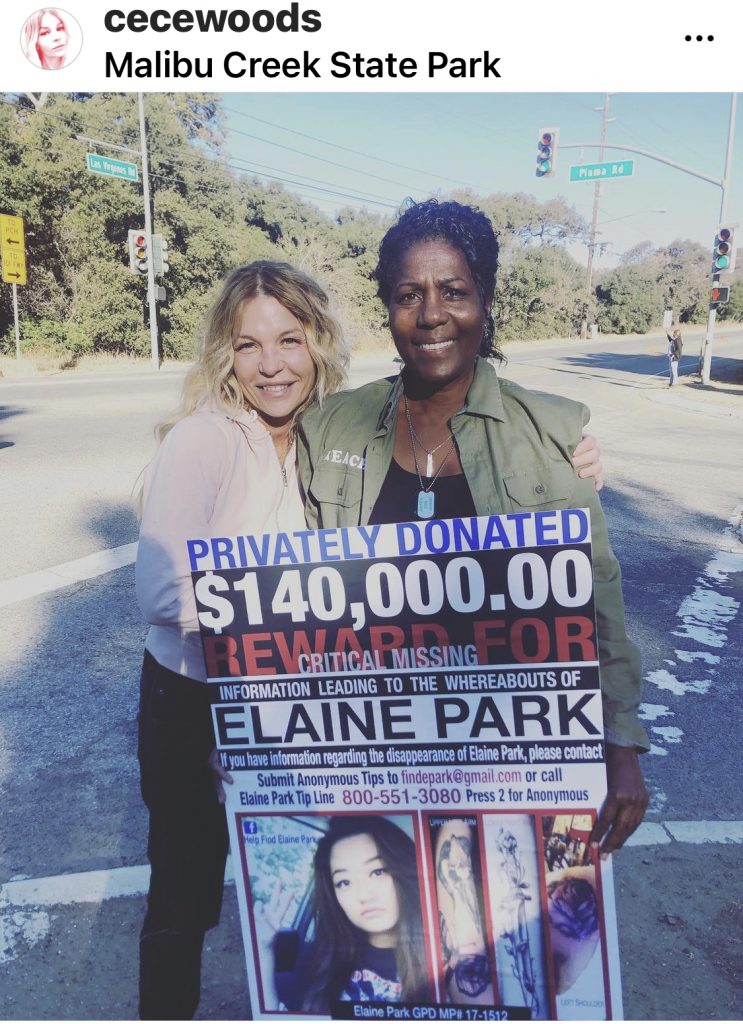 Former Rolling Stone writer  Neil Strauss became involved in Park's case shortly after she went missing, putting a team together in an effort to gather information in the case. In May 2021, Strauss released the second season of his podcast, "To Live and Die in L.A.", focusing on Park's disappearance.
During the course of the podcast, Dr. Hampton received multiple phone calls, messages and emails questioning her credibility (as did I receive the same communication because of our close working relationship questioning Hampton's motives because of the information Strauss provided in the podcast ) one of which was from a former missing person's family Dr. Hampton worked with through her  foundation, REACH for Mental Health Awareness founded in 2012 as a result of the disappearance of Mitrice Richardson.
In an effort to be transparent and continue her work with families of missing persons, Hampton released this statement:
"Since putting out my disclaimer distancing myself from the podcast To Live and Die in LA hosted by Mr. Neil Strauss, I have been met with criticism and challenged on my dedication to finding out what happened to Elaine Park. While I have a great deal of concern about the whereabouts and circumstances leading to the disappearance of Elaine Park, I also have to consider the families that I am currently working with and maintaining my credibility with those families as well as future families I may reach out to.
When people go missing families are confused, devastated and often don't  know where to turn for help. Reaching out to families to offer assistance requires establishing trust with the families as you are asking them to divulge private information to a complete stranger, which is why credibility is critical. If families do not feel as sense of trust they will not provide necessary information needed to assist them in their search for their loved one. Because of this, it was devastating for me to hear, at the end of one of the podcast episodes, Mr. Neil Strauss allude to the fact that I was lying and misleading in the case of Elaine Park.  This statement lead to me receiving multiple phone calls from people calling me a sham and a liar.  I was at a loss of what to do so putting out a disclaimer was all I could think of to a least let people know that I did not and do not condone the methods used by this podcaster to sell his show.
Since the airing of the To Live and Die Podcast, I have established a Searching For Elaine ParkFacebook page where I am sharing information that I know about her case in the hopes that someone will come forward with information.  While my working involves assisting families in getting the resources they need to search for their missing loved ones, I am not an investigator and have never claimed to be which is why I am collaborating with The Local Malibu and investigative reporter Cece Woods on a series of articles related to Elaine's investigation to get the true facts of the case out there in hopes of finding Elaine and the persons responsible for her disappearance."
FINDING ELAINE
In our investigative series surrounding the disappearance of Elaine Park and in an effort to gather more critical information, we will reveal previously published details in the case and well as new information that has forwarded to detectives in the case, but has not been released to the public.
On January 27th, 2017,  
Video footage
shows Park and her boyfriend Divine Compere leave his home in a gated community in Calabasas around 10pm. The couple took an Uber to watch a movie at AMC 16 Woodland Hills. Park and Compere returned to his home in an Uber at approximately 1 a.m.
As a result of our previous
articles
, multiple tips were sent in confirming an argument between Park and Compere occurred at some point during the evening before Park disappeared.
This updated information has been information has been forwarded to authorities investigating the case.
We will release Part Two in this series as new information becomes available.