UPDATE: 4/15/21 4:21 pm: At press time of this article and the time of my interview with NBC (I contacted reporter Robert Kovacik directly about this story because of the critical nature of this event and potential crime), bail amount was not yet reported. Suspect Kiddy is currently at Twin Towers under psychiatric evaluation with bail set at $60,000.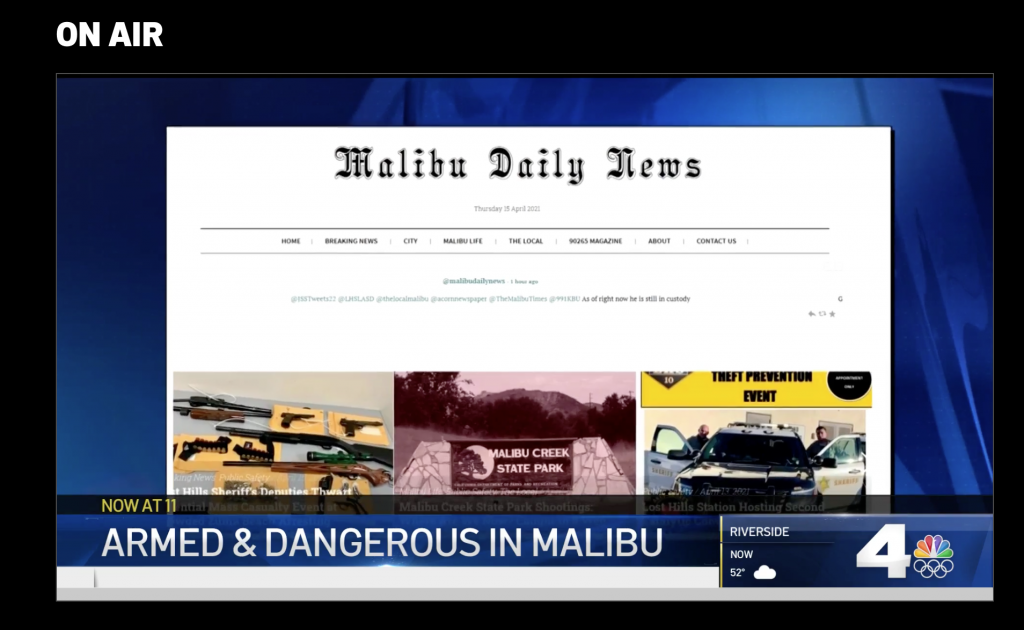 Over the weekend, Malibu resident Danette Eilenberg experienced something most members of community never imagined would be a reality in our rural coastal town.
Eilenberg noticed a suspicious man in an oversized trench coat and dark sunglasses walking "oddly" towards her at Zuma Beach. Instinctively, Eilenberg called the Lost Hills Sheriff's Station to report the suspicious activity she witnessed.
Deputies were dispatched immediately to the scene where they discovered the suspect, rummaging through his van.
Upon approaching the male suspect, deputies noticed the barrel of  a modified rifle with scope slung around his shoulder concealed by his trench coat. Deputies drew their weapons and successfully detained the suspect who had 3 .22 caliber pistols additionally on his on his person and two shotguns with additional ammunition in his van.
Law enforcement sources told Malibu Daily News the suspect was "attack ready" armed with four loaded weapons and two additional shotguns with ammunition. The weapons were recently purchased and registered to Kiddy.
While Eilenberg wrote in her post on Next Door the suspect appeared to "be a vagrant on drugs", no drug possession or DUI charges were filed.
Thanks to the instincts of the Eilenberg who reported Kiddy's behavior to the Lost Hills Station and the quick actions of the deputies, a potential mass casualty event at one of Southern California's busiest beaches was avoided.
Charges were filed against Kiddy at the Los Angeles District Attorney's office today, including four counts of a concealed weapon and six count of possessing a loaded weapon on his person or win his vehicle. Kiddy remains in police custody and is currently being mentally evaluated by medical personnel.
The Lost Hills Station released the following details about this weekend's arrest:
"On April 11, 2021, deputies assigned to the Malibu/Lost Hills Sheriff's Station were dispatched to Zuma Beach, Malibu, after receiving reports of a suspicious male harassing female patrons of the beach. Upon their arrival the deputies were directed to an individual whom they identified as Mr. Kyle Kiddy, a resident of Riverside County, California. While speaking to Mr. Kiddy the deputies observed him to be armed with a rifle which was partially concealed by his long trench coat, a violation of California Penal Code section 25400, for which he was detained. During the subsequent detention and investigation, the deputies discovered Mr. Kiddy was concealing an additional three firearms and associated ammunition on his person, as well as other items of evidence within his vehicle which was parked nearby. On April 13, 2021, the facts of the above incident were presented to the Los Angeles County District Attorney's Office who filed multiple charges against Mr. Kiddy who remains in police custody.
 This is yet another great example of the community and Malibu/Lost Hills Sheriff's Station working together as a team! While we believe this to be an isolated incident, it is always important to be aware of your surroundings and report suspicious activity immediately. Never fear, the brave men and women of the Malibu/Lost Hills Sheriff's Station are here to keep our citizens and beaches safe and secure."
Under former DA Jackie Lacey, bail would have been set at approximately $10,000-$20,000 per charge and one year in county jail per charge for these offenses. However, under DA Gascon's new directives, our sources at the DA's office tell us, Kiddy could very well see the light of day rather quickly (pending psychiatric evaluation) and could possibly get diversion, no bail and no jail time as he has no previous record.