Well Malibu, the pandemic is winding down and it's looking like the fat lady is about to sing.
Sources close to city officials told Malibu Daily News City Manager Reva Feldman's (never-ending) exit strategy is in place and according to Malibu City Council's Special Meeting agenda, Feldman's days are numbered and will be finally parting ways with the City.
After a five year contentious relationship with Malibu residents – which peaked after the City's failure to assist residents during the Woolsey Fire,  Malibu City Council will have a Special Meeting on Monday to discuss the hiring of an interim City manager to replace Feldman, who sources believe could be officially off the payroll by the end of the month.
Just a few weeks into 2021, on January 16th, Feldman handed in her resignation/demand letter stating she wanted to leave her position as City Manager and threatened litigation against the City because of newly elected council member Bruce Silverstein's public scrutiny of Feldman's refusal to comply with his requests.
Silverstein, a lawyer by trade, was specific in his requests to the City Manager, all legal, according to former City Attorney Christi Hogin and all done in writing as to properly document his requests. Feldman's calculated failure to comply was criticized publicly by Silverstein at meetings and on social media in order to inform the community of Feldman's refusal to be transparent (among other things). As a result of Feldman's actions, Silverstein filed a 72 page complaint against her with the City's Human Resources department.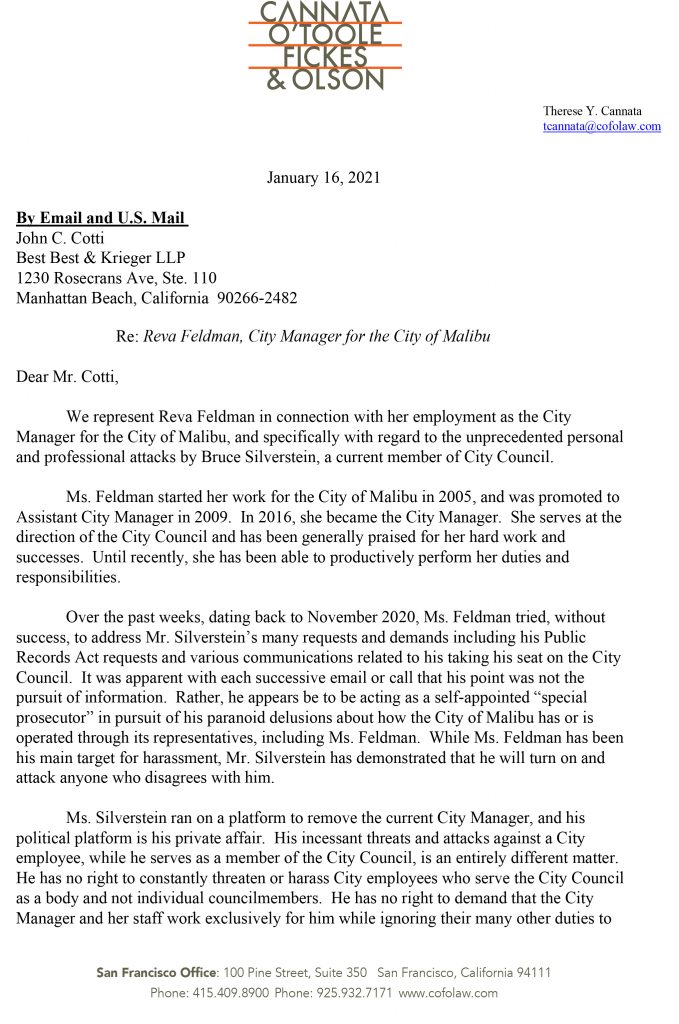 Feldman's threat to sue the City triggered an insurance company investigation of which much of the insurance company's findings and closed session information was made public when a local supporter of Feldman's, also an attorney, laid out the details in a letter to Mayor Mikke Pierson and council members Karen Farrer and Paul Grisanti. The document was filed with the City, submitted it as public comment.
According to sources, the insurance company determined Silverstein's actions were not considered "harassment". Therefore, Feldman had no valid claim. The insurance company also informed city officials that as long as Feldman continued to be employed by the City of Malibu, not only was she was considered a serious legal liability, the City would forfeit their coverage in this matter if they continued to keep her employed.
So, what did City officials, specifically the pro-Reva-pro-development majority do? They kept Feldman, a disgruntled employee that threatened to bleed the City dry, employed for another three and a half months.
Yes – three and a half months of listening to an organized lynch mob summoned by Feldman and the pro-Reva-pro-development majority to Zoom attack Silverstein and Uhring for demanding transparency from a city employee under council's purview. I mean, how dare they keep their campaign promises to clean up City Hall and have the best interests of the community in mind, right?
Three and a half long months of listening to public comment that sounded similar to nails on a chalkboard in the name of saving face for a City manager who backed herself into a corner thinking she could use her go-to manipulation tactics to keep her job – and embarrass her boss(es) for asking her to do her job.
Feldman kept the community on edge for the entire time, leading us to believe she won the battle to keep her job while simultaneously shaming and harassing Silverstein via her "hired guns" – similar behavior Feldman orchestrated using harassment tactics via Jackie Lacey's office in May of 2018 when Malibu icon and former mayor  Jefforson "Zuma Jay" Wagner was raided by D.A.'s office – all of which traces back to Feldman via her relationship with Antonio Villaraigosa, whom she refers to as "family" and was a huge supporter and friend of the former D.A.
After her failed attempt to cover her ass for not performing the legal requests by the two new new council members, Feldman successfully manipulated "Mayor" Mikke Pierson, a born and bred Malibu local who swore to protect his community during his campaign and a self-touted business consultant (owner of Pierson Business Solutions) to keep her employed against the will of the community who overwhelmingly voted Silverstein and Uhring in (snagging the #1 and #2 positions in the November 2020 election) to clean up City Hall.
Pierson, a "business consultant" completely ignored the basic principals of Business 101: when an employee hands you a letter of resignation and threatens to sue, you walk them to their office, watch them pack their belongings, walk them to their car and watch them leave the property never to return – then you promptly have your attorney handle the rest.
What you don't do: keep them employed – especially against the legal recommendations of your insurance company and with serious liability… unless of course you have something to hide.
For now, Malibu eagerly awaits the appointment of the new Interim City Manager as indicated by the agenda (released today) and will be discussed at Monday night's Special Meeting.
The celebrated "news" released by City Hall via agenda could not come at a better time as community members have already entered discussions to form a Citizens Oversight Committee after the serious negligence by Pierson, Farrer and Grisanti who willingly kept Feldman on as City manager against professional advice putting the City at increased legal and financial risk to  further their own agendas.
In the end, there is finally light at the end of the tunnel. Feldman's self-imposed demise leads to brighter days ahead for our beloved coastal town.