Long time Missing Persons advocate Dr. Ronda Hampton, an integral part of the high-profile
Mitrice Richardson
case has launched a social media campaign to assist in the search for
Elaine Park
, a young actress that went missing in the same general area of Dark Canyon in 2017.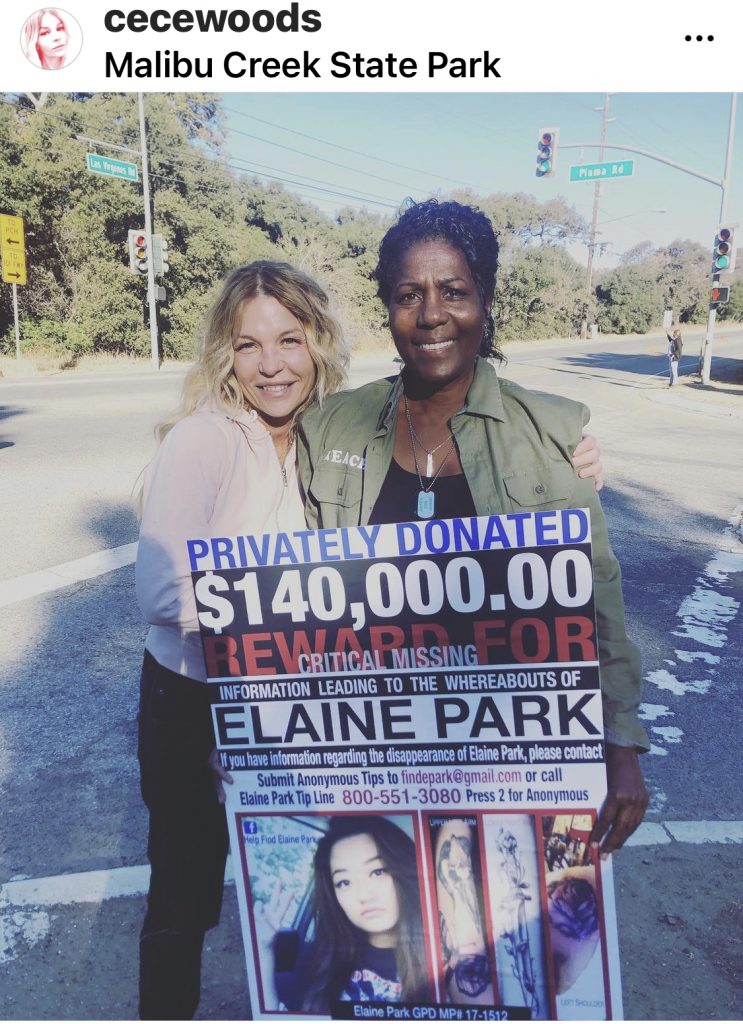 Over the last 11 years since Mitrice Richardson went missing, Dr. Hampton has participated in many interviews for major media outlets to bring awareness to these cases. Recently, Malibu local Neil Strauss, a writer and podcast host cast Dr. Hampton in a disparaging light on his most recent podcast "To Live and Die in L.A." for unknown reasons as her advocacy for the missing is highly respected by activist groups and law enforcement officials.
Upon learning of Strauss's unauthorized use of Dr. Hampton's name and content in the podcast, Hampton took to social media to correct the misinformation regarding her involvement – and the case – that was being disseminated on the podcast.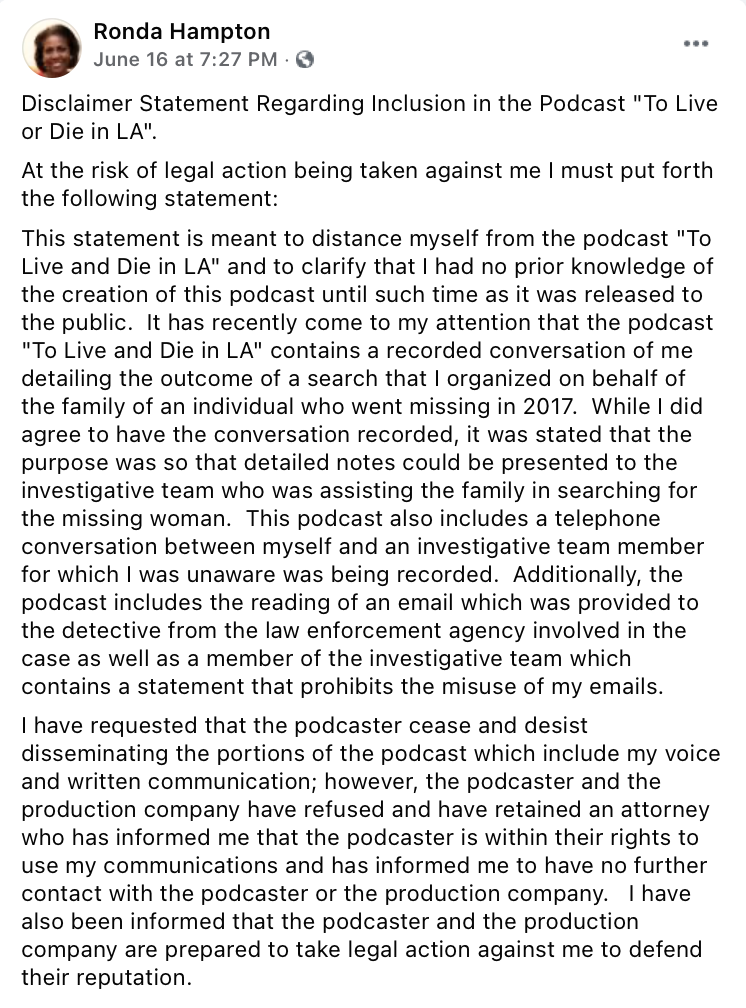 Malibu Daily News spoke to Dr. Hampton in-depth about the experience with Strauss and the "To Live and Die in L.A." podcast at which time Hampton provided the following statement:
"I met Neil Strauss when he approached me to do a story on Mitrice Richardson for Rolling Stone magazine. However, as we got deeper into her story he became focused on the aspects of investigations of missing persons and less on the details of Mitrice's case. He never wrote the story and I did not hear from him again until Elaine Park went missing in 2017.
Elaine Park went missing on or about January 28th, 2017 and I began working with the family February 11, 2017.  In late March of 2017 I was approached by Neil Strauss for a meeting to discuss a recent search that I organized for Elaine.  He stated to me that he was putting a team together and that they were going to attempt to help the family.  I agreed to meet with him and at the meeting he asked me if he could record the conversation so that he could accurately pass on to the team what I was sharing.
Mr. Strauss and his team of "investigators" included: Mike Eizinger ( musician and member of the rock band Incubus), Jayden Brant (Private Investigator), Ingrid De La O (the wife of Neil Strauss), Rosemarie Wheeler (family friend of the Park family) and others unknown to me.
Some time after the meeting I received a phone call from Mr. Strauss and he shared with me that some of the information I provided him was disputed by participants at the search and he wanted some clarification.  I told him I was unsure of why they disputed what I said and that is the last I heard from him regarding the case.
It was not until I was alerted to the recent release of his podcast "To Live and Die in LA" which featured Elaine Park's story did I learn that Neil Strauss used the recording of my debriefing the search efforts, the phone call (which I did not know was being recorded) and an email that I sent to the Glendale Police Department detective handling the case as part of this podcast.  While I value the work of podcasters and have participated in several podcasts over the years, I was quite shocked by the tactics taken to highlight Elaine Parks story by Mr. Strauss.  It is disheartening to hear how week after week there is a new suspect and the listener is left with the "cliff hanger" ending and craving the next weeks episode.  Reading the messages of finger pointing and blame from "fans" of the podcast shift from one suspect to another on social media seems manipulative at best, but I get it, it makes for good ratings and more downloads.  But what is most concerning is that the true sleuths are only given bits and pieces of the puzzle which is leading them in the direction that the podcaster wants them to go as opposed to presenting facts, without the drama, without the salaciousness and without bias.
While I do not know what happened to Elaine Park and have no particular concrete theory, what I can share with those sleuths who have the skills to delve into this case is information that might fill in the blanks that the podcaster left out. If Crowd-Sleuthing is going to work, then the sleuths need the information to work with. I have created the Facebook page
SEARCHING FOR ELAINE PARK 
in an effort to bring inquisitive minds together to try to piece together this story and to bring Elaine Park home. I do not have funding, a production company or a team so I will work as fast as I can to get out as much information as I can.
Let's Find Elaine!"
Strauss and his "To Live and Die in L.A." podcast also inserted themselves into the Matthew Weaver Jr. case, a story I broke during the Malibu Creek State Park Shootings. Matthew's father,
Matthew Weaver Sr
., reached out to me after seeing my coverage on the shootings. Weaver Sr. desperate for help finding his son, needed media outlets to report on Matthew's disappearance.
Due to the proximity of the three missing cases of Mitrice Richardson, Elaine Park and Matthew Weaver Jr to the Malibu Creek Park shootings area, I was able to relate these stories and generate local and national coverage to the Weaver case.  At a press conference organized by Strauss and his team (with the intention of creating the podcast that later aired the case) Weaver Sr. acknowledged me (and my publication) publicly for getting critical attention on the Weaver case.
At no time have I ever been contacted by Strauss or his staff regarding Weaver case in spite of being responsible for breaking the story, being on-scene at critical times during the investigation and having close ties to family and law enforcement sources involved in the case.
Coincidentally (or not), Strauss also appeared at the Mitrice Richardson
10-year anniversary
press conference which was attended by Sheriff Alex Villanueva who assigned a detective days after the conference at the Lost Hills station.
Dr. Hampton's commitment to missing persons cases, including Park's case has inspired a
social media campaign
aimed at generating viable leads in the investigation currently under Glendale Police Department's purview due to Park's last known address.
"This group is not for the purpose of speculation, blame or casually bouncing around theories. It is the hope that those who have the skills necessary to solve this case will assist in bringing forth information that will lead to a resolution to this case." said Hampton in her opening statement on the group page.
Over the last four years, the Park case has gone cold leading to the families Park and
Matthew Weaver Jr.
who went missing in the same area known as Dark Canyon on August 10th, 2018, to rally together and appeal to the Los Angeles County Sheriff's Department for assistance as Park and Weaver's last known physical location was in the Lost Hills Station jurisdiction.
According to Captain John Satterfield at the Sheriff's Information Bureau, the Sheriff's department is unwilling to get involved as the Park and Weaver cases are currently being "investigated" (for lack of a better work as there has been little to no cooperation with the families as to the progress) by two separate law enforcement agencies, Glendale PD and LAPD respectively.
Dr. Hampton intends to provide "all information and/or leads shared to the group " to the lead detective on this case for the purpose of solving this case.